IMAP vs POP: Which is better for email?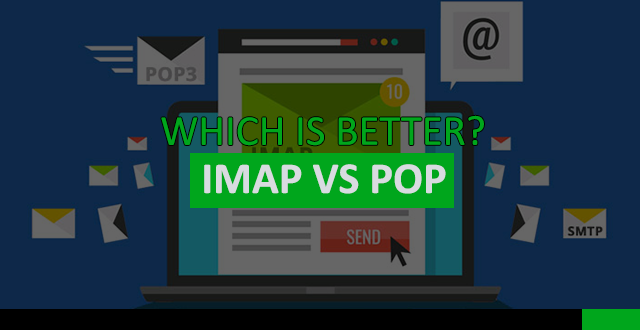 IMAP vs POP: Which is better for email?
IMAP vs POP: Which is better for email? This could be a question when you setup an email address in your email client. Let us understand these email protocols to decide the best option that is suitable for you!
How does IMAP or POP work?
In the simplest form, IMAP allows email clients to retrieve emails from an email server and leave the emails as it is. IMAP will only delete emails on the email server if you explicitly delete the email on your devices.
On the other hand, POP (or the version 3 known as POP3) retrieves all emails from an email server, stores them in the email client and deletes all these emails on the server. POP will delete emails immediately on the email server, or after a number of days, depending on your email client configurations.
Benefits of POP
Back in the early days of the Internet's invention, most people connect to the Internet via dial-up connection. Internet back then was not always-on as dial-up is charged by the minute or hour. Therefore, POP was really useful as it allows users to work on their emails offline, after downloading them. Users only need to go online again to send the emails.
Furthermore, in the early days, web & email hosting services come with rather limited space (typically several ten to hundreds of Megabytes, MB). POP was the preferred email protocol because it helps free up space on the hosting account for new emails.
Disadvantages of POP
Emails can only be stored in your computer as POP will delete anything else on the email server. Clearly, the risk of email loss is big if your computer is not properly backup. Additionally, working on multiple devices is not possible with POP. This is due to the same email may not appear on your other devices.
Advantages of IMAP
IMAP tackles most shortcomings of POP. In today's always-connected Internet and the multi-device requirement (a person has at least a computer and a smartphone), IMAP is especially useful. IMAP allows you to work on your emails on any devices, since IMAP stores your email on the email server. If you lose a device, you do not lose all your emails since the server has your email. Therefore, the backup responsibility falls on your hosting provider, not you! You can work on IMAP while you are offline because your email client caches the recent emails for you.
Disadvantage of IMAP
The only disadvantage of IMAP is your emails will take up your web & email hosting storage space. This can easily be solved if your business email hosting account has large storage space, such as the SecureAX Workspace or Business Email Hosting.
Conclusions
It is quite clear that IMAP gives better accessibility and email protection over POP. Thus, we believe every company should consider using IMAP protocol for email.
SecureAX is a Fully Managed Cloud Server provider in Singapore & Malaysia which specialises in Business Email Hosting. Contact us to find out how we can help you with better email hosting for your company!