Acronis Backup
Protect your IT Infrastructure and Company Data with Acronis Backup
You can now avoid downtime, data loss and security breaches at a lower cost with Acronis Backup. Acronis Backup offers one agent, one management interface, and one license to help you manage and monitor all devices under protection effortlessly. This allows you to decrease incident volume and minimize incident response times.
Easy & Affordable Data Protection
Acronis Backup provides system or data owner the benefit of monitoring and controlling the backup/restore process all via one web-based interface. Its one agent setup improves your devices' performance by avoiding agents/endpoint conflict. Most crucially, the entire data protection solution by Acronis is made highly affordable through its simplified licensing model.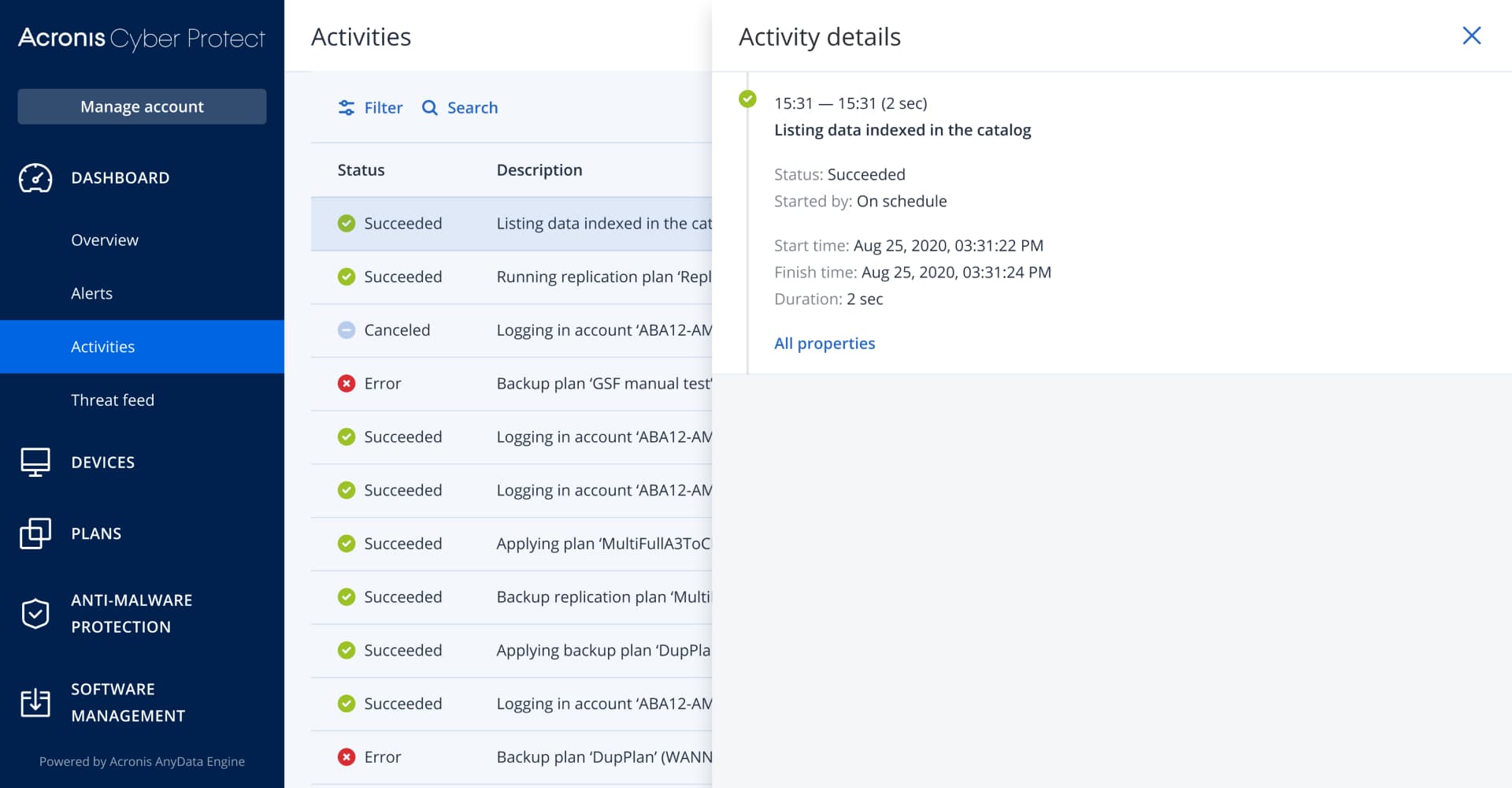 One Solution, One Interface, One Affordable Price
100GB Cloud Storage

Windows or Mac OS

1 Device Licence
100GB Cloud Storage

VMWare or Hyper-V

1 Device Licence
100GB Cloud Storage

Windows or Linux

1 Device Licence
50GB Cloud Storage

Microsoft 365

1 User Licence
Our proposition
Why Acronis Backup with SecureAX?


Acronis Partner
We are an Acronis Partner. Let our expertise and experience help you with a better on-boarding and on-going experience


Always Available
We are always available through phone, email or ticket system. On-demand onsite troubleshooting can be arranged too, just to help you solve every problem.


Consolidated Bill
We offer a full suite of Cloud Solutions. Simplify finance and cash flow management with our consolidated bills
Frequently Answered Questions
What is Cloud Backup?
Cloud backup (aka cloud computer backup) is when you make a copy of your files, applications, virtual machines or servers and store them safely on a remote network of computing resources that you access via the internet. "The cloud" refers to that network of connected computer resources.
What is Acronis Backup?
Acronis is a global leading backup technology provider. Its decades of strong research and customer portfolio ensures businesses of all sizes can protect their important data using their software solutions.
Am I protected from ransomware?
Yes of course. In fact ransomware is just one of the threats that could destroy your important data. With Acronis Backup, you are protected from a long list of threat, which in short means you are protected at all times under any scenario!
How safe is my backup data with you?
All your data backup and stored on Acronis secured cloud are safe: 1. Military-grade encryption - In storage or in transit, your data is protected by AES-256 encryption 2. SSAE-18 certified security - Acronis data centers leverage the latest disaster prevention technologies and ensure 24/7 security 3. Tier-IV designed data centers - At 99.995 percent, Acronis delivers the highest level of availability possible today 4. Ransomware protection - The first of its kind, built-in AI technology detects and defeats ransomware
Why can't I just copy my data into a portable drive or NAS?
While it is a good idea to store your important data into a secondary device, it is also very important to ensure that all data, beyond that you can think of, are properly protected. A good backup solution ensures all data can be collected, verified and backup into a safe and secure place. Additionally, a good backup solution should also ensure that all these data can be found and recovered easily. All these added benefits ensure that your data is protected and available.