Fix Hacked WordPress Website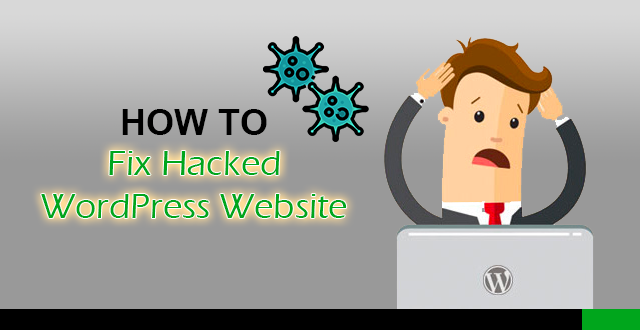 Fix Hacked WordPress Website
Let us explore how to fix hacked WordPress Website in this article. Your WordPress website is hacked if:
Google marks it as insecure
Antivirus or internet security software deny access and prompt the website as dangerous
Your website redirects to another website
Your website contains illegitimate links or links you do not recognise
You fail to login to WordPress Admin Dashboard
You should immediately fix hacked WordPress website before you start losing both your Google ranking and visitors to your website!
Step 1 – Seek help from your hosting company
You should immediately contact your hosting company for help. Find out if they can help you clean your hacked WordPress website. Be it for a one-time fee, it is better to let these experts deal with the problem for you! If they do not provide cleaning service, find out if they can help you restore your website from backup.
Step 2 – Change your Hosting & WordPress Admin Password
You should now immediately change all your passwords (hosting control panel, FTP, mySQL databases and WordPress admin password) to a stronger one. Seek help from your hosting company if need to!
Step 3 – Check your WordPress user permissions
If you have other Admin, Editor, Contributor, to name a few, who gain access to your WordPress, be sure to update their passwords to a stronger one too. Remove user accounts you no longer require to have access to your WordPress website.
Step 4 – Update WordPress core, plugins and themes
You should now update your WordPress core, its plugins and themes to make sure you are using the latest version that is free from vulnerabilities.
What happens if you do not have backup copies of your WordPress website?
If in the unfortunate event that your hosting company does not have any backup copies of your website (ie, you do not immediately realise your website has been hacked and so their backup copies are all of the hacked WordPress) you may need to consider re-installing your WordPress website again. This is a very daunting process.
Alternatively, explore WordPress Malware Removal services, where your hacked WordPress website will be thoroughly scanned and studied by experts, so they remove the threats from your website. The expert will usually also help you complete all the good practices of Steps 2,3,4 above too.
SecureAX is a Fully Managed Cloud Server provider in Singapore & Malaysia which specialises in Managed WordPress Hosting and WordPress Malware Removal service. Contact us to find out how we can help you with your email security protection!