Virtual Queue for Online Ticketing

Virtual Queue for Online Ticketing
Virtual Queue for an Online Ticketing (Bus Operator T) was implemented by SecureAX, for Singapore-Malaysia Vaccinated Travel Lane (VTL) land travel that commenced on 29 November 2021. The Virtual Queue system ensures Operator T is able to cope with the surge in website traffic. This system facilitates minimal-to-no loss in bus ticket sales revenue by protecting Operator T's website from crashing due to high web traffic during the sales periods.
The Importance of VTL
The Singapore-Malaysia borders were shut for close to 2 years due to COVID19. Families were separated during this period of time. The VTL land & air travel are the only methods of crossing the national borders amidst the pandemic, and gave hope for those who missed their loved ones. Operator T is the appointed bus operator to operate the Singapore to Malaysia route. Thus, Operator T expected their website traffic to surge as travelers book the bus ticket on their websites, and found SecureAX.
Challenge 1 – Deliver within 72 hours
When Operator T approached SecureAX, we had less than 72 hours to propose and implement the solution. There was zero tolerance for delay as the VTL is a national interest and gains nation-wide publicity. Additionally, the relevant authorities would be overseeing the implementation and operation. SecureAX accepted the challenge.
Challenge 2 – Legacy Setup
Operator T already has an existing website, booking system, payment system and web hosting provider. The legacy system is a bottle neck for resource elasticity and high availability implementation. Operator T clearly knows the limitation and hence needed a solution before the sale of VTL bus tickets. The only implementation SecureAX can do, which is free from the encumbrance of legacy setup, is to implement a Virtual Queue system. The Virtual Queue system has to be the first gateway for all web traffic, and protect the legacy setup behind it.

Challenge 3 – Scale with No Limit
Every ecommerce website owner knows how much web traffic he may be getting, prior to any marketing campaigns. Unfortunately this was not the case with the VTL and Operator T. No one knows how much web traffic to expect during the sale of the bus ticket and thus, SecureAX has to ensure the Virtual Queue can scale without limit. The Virtual Queue can never crash, and should always work no matter how much web traffic keeps flowing in.
Challenge 4 – No Compromise on Security
SecureAX had no information on vulnerabilities assessment and penetration testing (VAPT) for Operator T's website. Therefore, the Virtual Queue has to provide key security features to enhance protection on Operator T's website. Any security compromise would gain a notorious national publicity. Therefore, SecureAX has to enforce strong security for its Virtual Queue system.
Challenge 5 – Cost Effective
SecureAX acknowledges and understands the hardship Operator T suffered, with no cross border bus ticket sales of almost 2 years due to COVID19. Any unrealistic cost for the system will definitely trickle down to the travelers, whose income was affected by the pandemic. Therefore, the solution SecureAX provides has to be cost effective.
Virtual Queue for Bus Operator – Delivered
We met all the challenges above and implemented a Virtual Queue system for Operator T. The waiting room interface was fully customised for a seamless and frictionless user experience. Additionally, useful queue information such as the number of persons ahead, notify me when it is my turn, to name a few, provide insights to enhance user retention.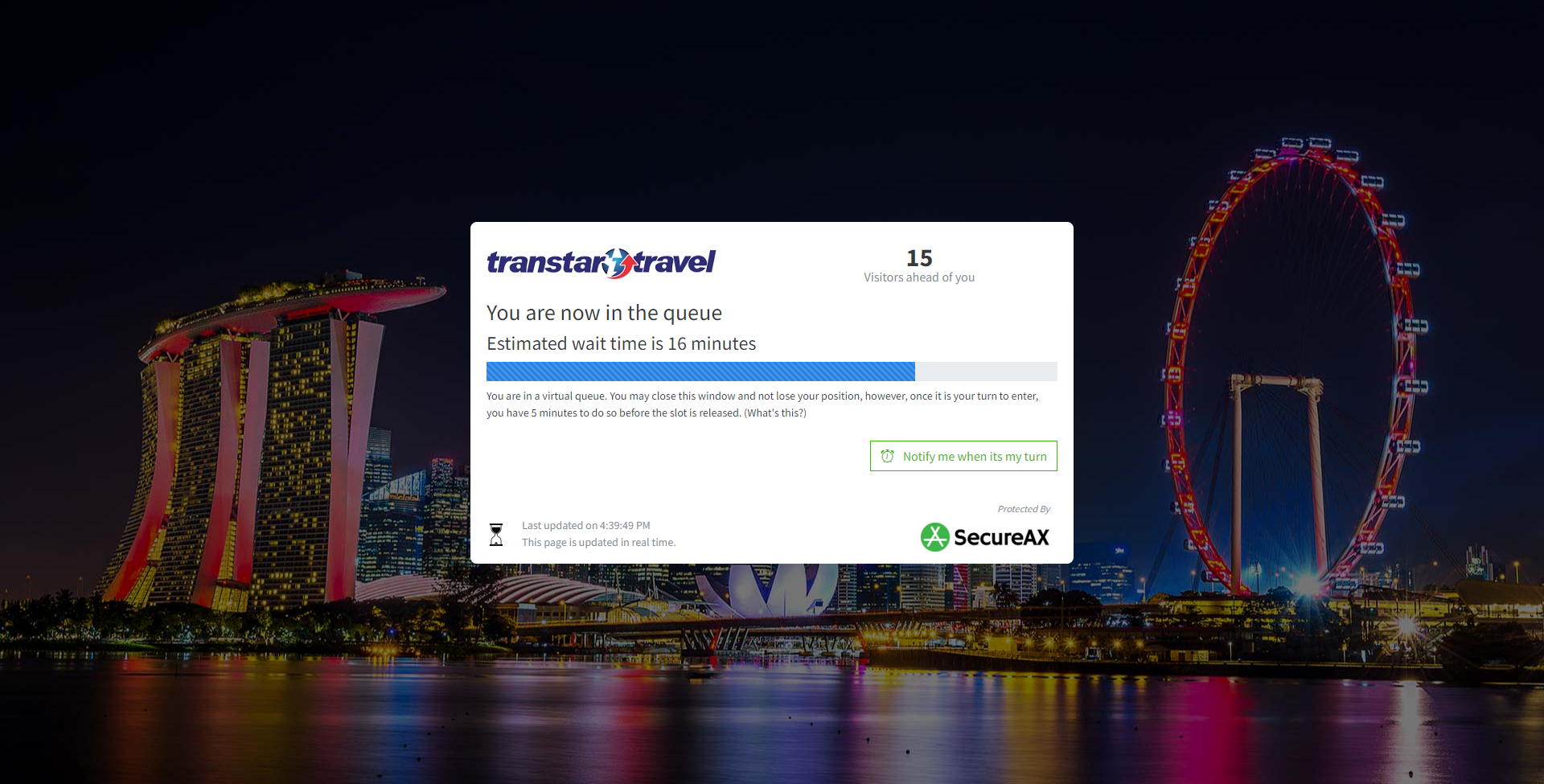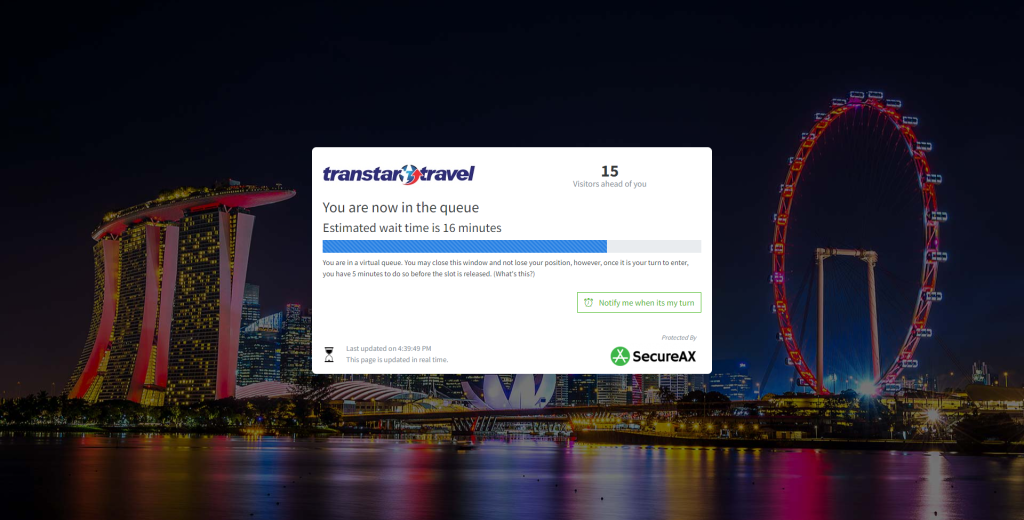 At one point in time, we received more than 250,000 visitors on the queue system. Note that much higher visitor count was hit during the tenure of queue system implementation and our Virtual Queue faces no performance problem at all.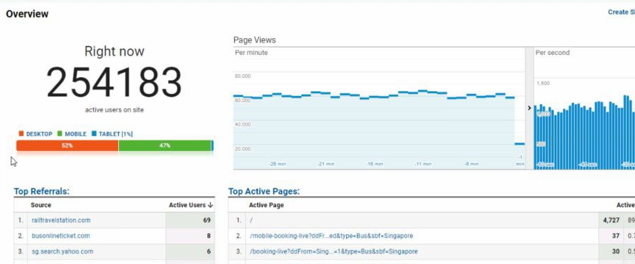 Our Virtual Queue system was also able to deal with more than 1,600 requests per second, and consistently above 1,000 requests per second at sustained period of time throughout the day.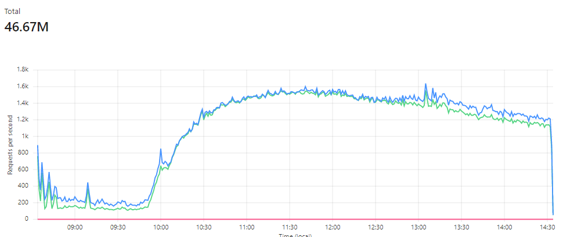 As far as security is concerned, our Virtual Queue helped fended a DDoS attack that resulted in 55,000 requests per seconds on 7th February 2022.
Why SecureAX Virtual Queue is Better?
In the market, there are currently three virtual queue providers, with their technologies summarised as follow:
Competitor Q: Redirects visitors via an in-page Javascript. Easily defeated by visitors with the slightest IT know-how. Traffic surge will completely overwhelm the webserver in seconds, leading to poor user experience.
Competitor T: DNS based approach that relies on DNS record expiry to trigger start/stop of waiting room. Easily defeated by IT savvy visitors who have had prior record of your DNS A/CNAME record. Traffic must be routed through their servers, complicating GDPR, PCI-DSS and HIPAA compliance. Very expensive.
Competitor C: Offers waiting room as a bolt on to their CDN/WAF – Customizations not possible on cheapest plan, limited even on the most expensive plan.
Meanwhile, the SecureAX Virtual Queue is the real un-skippable, non-bypass-able queue system. Utilizing CDN and WAF, all requests are verified and filtered, while static resources are served from CDN, freeing up your bandwidth and CPU to do what really matters: generate more sales. Our CDN/WAF partners are GDPR, PCI-DSS and HIPAA certified.
Why SecureAX?
Unlike most of our competitors, SecureAX is an infrastructure and software specialist. We have handled servers, networking equipment and software stacks required to handle tens of thousands of concurrent connections and tens of millions of visitors per day. We do not just sell you a product, we sell you a solution, a promise and a success story. As part of our solution, you get WAF, CDN, Origin Shield and Bot Management – these will ensure that your waiting room project becomes viable and successful. Contact us today to find out how we can help you with our Virtual Queue system!