Virtual Queue vs Cloud Upgrade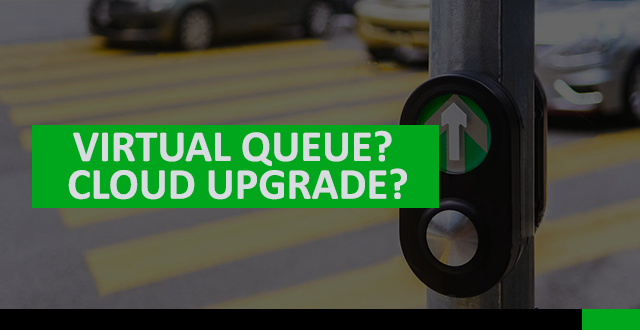 Virtual Queue vs Cloud Upgrade
Virtual Queue vs Cloud Upgrade is a key decision that affect any eCommerce sales. In reference to our Case Study here, it is interesting to ponder why Virtual Queue is better than Cloud Upgrade. Let's find out through this blog post!
What is a Virtual Queue?
Virtual Queue assigns queue numbers to visitors while their internet traffic is placed on hold in the waiting room. Depending on the queue methodologies, they will then access the eCommerce website to make their purchase. Virtual Queue is important to keep marketing or sales lead hot. Without Virtual Queue, eCommerce website may crash over high traffic, and any visitors who fail to load a website during promotional activity is likely not going to return again in future. This is detrimental to any businesses and can jeopardise their brand name.
What is Cloud Upgrade?
Cloud Upgrade is as simple as upgrading the eCommerce web hosting plan to a larger plan. With a larger hosting plan, it is hopeful that the server has more resources to receive the higher web traffic and therefore can receive more web traffic before it crashes. Take note that the bottleneck may still lie with the web application or payment system used by the eCommerce website.
Virtual Queue is better than Cloud Upgrade
Typically if an eCommerce operator expects double digit surge in web traffic, Cloud Upgrade can be a viable, quicker and cheaper upgrade option. However if the surge in traffic is huge, based on our experience, these are the real benefits of Virtual Queue over Cloud Upgrade:
In a situation where the supply to demand ratio is high, simply upgrading the infrastructure without implementing a waiting room would be counterproductive
Overbooking – Experienced even by major airliners during holiday seasons, web applications not designed and optimized for extremely high concurrent transaction per second will experience deadlocks and/or consistency issues, leading to seats overbooking.
Bot Advantage – Unscrupulous actors rely on advanced automation tools that blends in well within normal traffic. They typically complete transactions 20 to 50 times faster than an average human can. By simply upgrading your infrastructure and not using a waiting room bundled via Virtual Queue that throttles traffic, you are only enriching these bad actors.
Return on Investment – Not all sales events last forever hence Virtual Queue can be decommissioned once not required.
SecureAX Virtual Queue
SecureAX Virtual Queue is the real un-skippable, non-bypass-able queue system. Utilizing CDN and WAF, all requests are verified and filtered, while static resources are served from CDN, freeing up your bandwidth and CPU to do what really matters: generate more sales. Our CDN/WAF partners are GDPR, PCI-DSS and HIPAA certified. Contact us today to find out how we can help you with our Virtual Queue system!