Hybrid Email saves 83% cost for trading company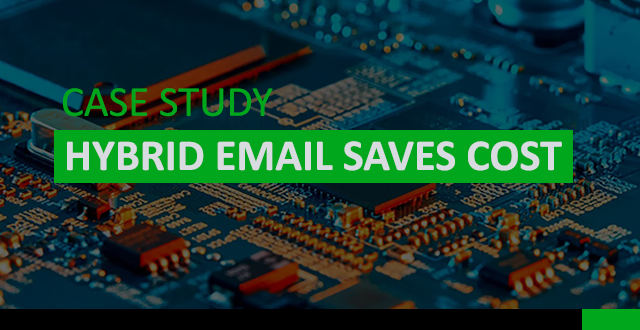 Hybrid Email saves 83% cost for trading company
Hybrid Email is a unique and useful email feature of our Business Email Hosting. Typically, business owners or senior management teams who require full features of Microsoft 365 or Google Workspace may subscribe to its services, while all other email users can use Business Email Hosting.
What is Hybrid Email?
Hybrid Email lets you mix subscription of Microsoft 365 (formerly Office 365) and Google Workspace (formerly G Suite) with Business Email Hosting. This allows you to save tremendous cost over email users who do not require the premium features of apps bundled with Microsoft or Google. Email administrators or IT Managers can manage these subscriptions at ease through the cloud console portal.
Trading Company saves 83% email cost with Hybrid Email
Our customer is an industrial component trading company with headquarter in Singapore and regional offices in Malaysia, Thailand, Vietnam and Philippines. It has a total 280 email users across all its offices and had been a subscriber of Microsoft 365 Business Basic for several years. It had Microsoft 365 Business Basic subscription cost of:
BEFORE:
Microsoft Business Basic Subscription Cost: 280 Users * USD$72/year = USD$20,160/year ~ SGD$26,208/year
Our customer realised that not all its staff require the Web/Mobile Office App and OneDrive storage. Clearly, they are paying a premium over features they do not require. Moving all these mailboxes to a traditional email hosting service is not an option as its Management Team of around 30 users are actively using Web/Mobile Office App and OneDrive storage.
The customer came to SecureAX, and SecureAX proposed the Hybrid Email solution to meet the needs:
AFTER:
1. Microsoft Business Basic Subscription Cost (Management Team): 30 Users * USD$72/year = USD$2,160/year ~ SGD$2,808/year
2. Business Email Hosting (1.5TB Total Space for remaining 200 staff): SGD$1,650/year
Subtotal = SGD$2,808 + SGD$1,650 = SGD$4,458
With the above Hybrid Email arrangement, our customer pays for only 30 users' subscriptions to Microsoft Business Basic. The rest of 200 staff are under our Business Email Hosting, with an average of 1500GB / 200 staff = 7.5GB of average space per staff, more than their required email size needed.
Total Cost Savings = SGD$26,208 – SGD$4,458 = SGD$21,750/year or 83%!
Customer is Happy with Hybrid Email
Let us hear what the customer has to say!
Thank you SecureAX for the professional service to assist us with a seamless email migration. We love the flexibility to control our email cost via Hybrid Email. Now we pay Microsoft 365 for our email users who really need it. We also do not have to constantly change our subscription (and make payment) over human capital turnover, since the Business Email Hosting allows us to add and delete email users without incurring extra cost.

Rajeev Patel
Group IT Manager
H******** Pte Ltd

* Company name undisclosed due to Non-Disclosure Agreement signed with SecureAX
SecureAX is a Fully Managed Cloud Server provider in Singapore & Malaysia which specialises in Business Email Hosting. Contact us to find out how we can help you with better email hosting for your company!