TrueIDC Thailand Datacenter
In this datacenter, a full suite of Cloud Hosting and Infrastructure Services, such as Thailand Cloud Servers and Colocation service in Thailand are offered to our corporate customers. Additionally, we also able to provide Corporate Leased Line services such as Multi-Protocol Label Switching (MPLS) which enable us to link up all our customers' offices in Thailand with our infrastructure in the TrueIDC.
It is worthwhile to note that this is an ISO/IEC 20000 and ISO/IEC 27001 certified facility.




Highlights of Datacenter Facility
2 x 2,275 KVA Diesel generators (max capacity: 3 Units with N+1 Configuration), Run length 5 Days without refuel
6 x 400KVA UPS (initial installation 4 Units with 2N redundancy)
Dual power supply to each rack and cabinet from UPS with Source Transfer Switch (STS) in every rack
N + 2 precision air-conditioning system (Temperature 22 ± 2°C; Humidity 50 ± 10%)
FM200 fire protection system with high sensitivity smoke detector (HSSD) and 4 layers fire-rated walls
Security staff on duty 24 hours daily with Digital VDO recorders (2-months footage)
Access control with figure print scan or key card & PIN code
Water leakage detection sensor and water protection dams around Air Conditioner
True Internet Network
Our Bangkok, Thailand datacenter is strategically situated in the Bangkok Metropolitan City Center which is well-connected to the major global & local circuit providers. By directly connected to True International Gateway (TIG) and International Internet Gateway (IIG), we are peering with the global telecom and content providers. Additionally, our Thailand datacenter is also directly peered with our Singapore network through Equinix Internet Exchange (EIE) Singapore.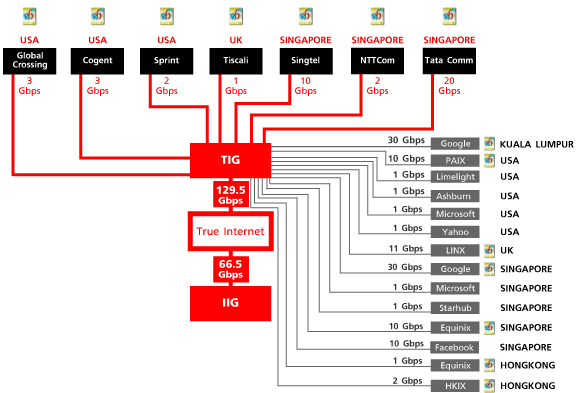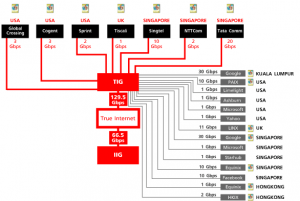 Frequently Answered Questions
What colocation options are available at TrueIDC Thailand Datacenter?
We provide only Full Rack, Caged and Private Suite colocation services at TrueIDC Bangkok Datacenter
Is there any minimum contract with your datacenter colocation service?
Yes, there is usually a minimum contract period of either twelve (12) months or twenty-four (24) months, depending on the size of your colocation requirement.
Do you help me with equipment rackmount?
Yes, this is a service our customers from overseas enjoy because they find significant cost savings allowing us to do the equipment rackmount, maintenance and relocation on their behalf, instead of flying their engineers over to Singapore to do the same job.
Do you help me with faulty hardware replacement?
Yes, we provide remote helping hands to replace faulty hardware upon your request
Are you able to help me source for hardware in Singapore?
Yes, we are able to help you source for hardware to replace faulty ones, or even servers, networking equipment from our distributors in Singapore